Turnir košarke 3x3 u Areni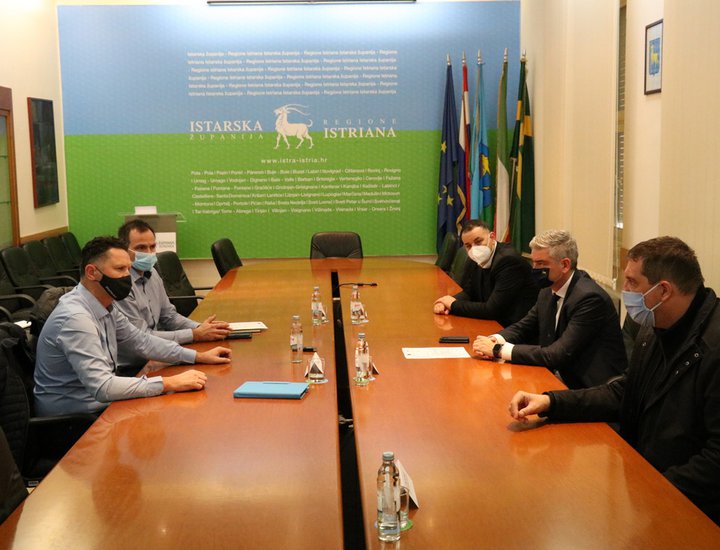 Nakon hokeja na ledu i nogometa, pulska Arena bi mogla postati domaćinom i međunarodnog turnira u košarci 3x3, što je bila tema današnjeg susreta istarskog župana Borisa Miletića, pročelnika Kabineta župana Ivana Glušca i ravnatelja Arheološkog muzeja Istre Darka Komša s organizatorima Tomislavom Prpićem i Zlatkom Galiotom, iz Udruge PRO 3x3.  Tom je prilikom županu predstavljen koncept dvodnevnog turnira, koji bi se održao u pred ili posezoni, a cilj mu je popularizacija 3x3 košarke, inače dinamičnog i atraktivnog, olimpijskog sporta. Nakon Bjelovara, želja je organizatora diljem Hrvatske organizirati košarkaške utakmice toga tipa, a Istru smatraju idealnom destinacijom, u kojoj postoji interes za vrhunski sport. Osim toga, Istra je moderna regija, kao što je to i košarka 3x3. 
Župan Miletić je podržao inicijativu, naglasivši kako su sportski turniri dobrodošli, a promociju sporta među djecom i mladima smatra posebno značajnom. 
- Svi dobro pamtimo hokej na ledu u Areni, manifestaciju koja je dodatno brendirala ne samo Pulu, već cijelu Istru kao vrhunsku sportsku destinaciju. Pozdravljam i to što bi turnir bio besplatan za naše građane i goste, a na njemu će se moći okušati i domaće košarkaške ekipe, naglasio je istarski župan.
Za daljnju organizaciju zadužen je Arheološki muzej Istre.